I may have been quiet, but I'm hard at work to bring more content to you guys. I'm working on bringing Skullmill.com up to full speed, working on two new pages for Snafu-Comics's Skull-Boy, putting together a new project which will remain secret for now, and getting back up to speed with my man Bleedman so we can pump out new issues of Deliver Us Evil!
Here's a page I did on my Skullmill mini-series, Boob Tube. I'm bringing it back along with Skull-Boy Ch.2, Deliver Us Evil and soon a new project, again, secret…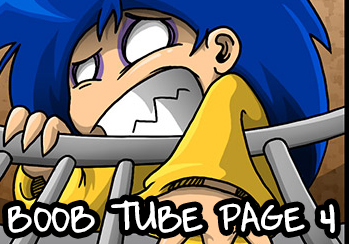 Here's a little fanart I made for Bleedman to show him my thanks for this awesome Kerry drawing… mine's not as good.